Sulawesi – known as Celebes in past times – is an odd shaped but amazing island in Indonesia. Indonesia has many thousands islands, ranging from big to tiny; Sulawesi is the fourth biggest island (and 11th biggest in the world). To many travelers Sulawesi represents the ultimate 'off the beaten track' holiday. Here you can experience a different kind of Indonesia all together. Mass tourism has not yet arrived in Sulawesi, though some tourist highlights attract many thousands of tourists each year. A trip to Sulawesi basically boils down to the following attractions & activities: Scuba diving, jungle trekking, cultural splendor and volcanoes/highlands.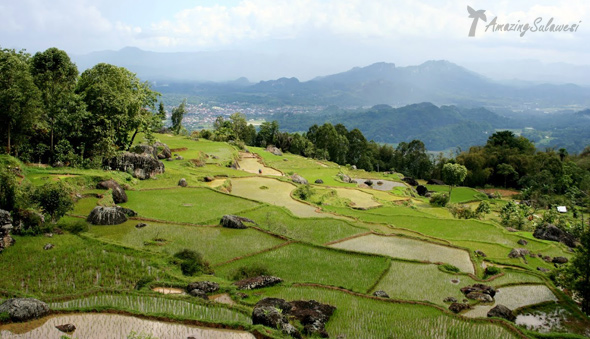 3 main regions
Sulawesi consists of three main regions:
Southern Sulawesi with capital Makassar has many cultural highlights and you can also find the stunning Wakatobi Marine Park in this region.
Central Sulewesi is known for its beautiful highlands with pleasant climate. Here you also find a few of the biggest attractions the island has to offer: Tana Toraja, the Togian Islands and Lore Lindu National Park.
Northern Sulawesi is best known for its splendid diving conditions. There are three marine parks where you can experience world class diving; Bunaken, Lembeh and Bangka. Here you also have a couple of volcanos and lakes, and the Minahasa tribes in the highlands (near Tomohon). Northern Sulawesi also has plenty of places to spot wildlife. The most popular national parks in this region are: Tangkoko National Park and Bogani Nani Wartabone National Park.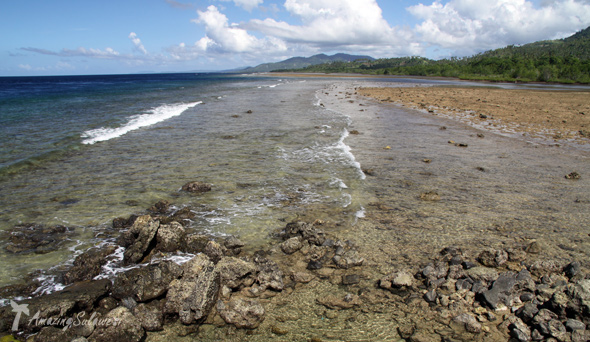 Wildlife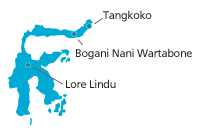 Sulawesi has numerous national parks, and three in particular are well worth a visit; Lore Lindu National Park, Tangkoko National Park and the biggest of the three; Bogani Nani Wartabone National Park. Of these three a visit to Lore Lindu NP probably gives you the best jungle experience. All three parks offer great hikes, an abundance of wildlife, guided tours and the option to stay overnight. Tangkoko is easiest accessible for tourists, as it's only a 1,5 hour drive from Manado. Getting to the other two parks requires a bit more traveling.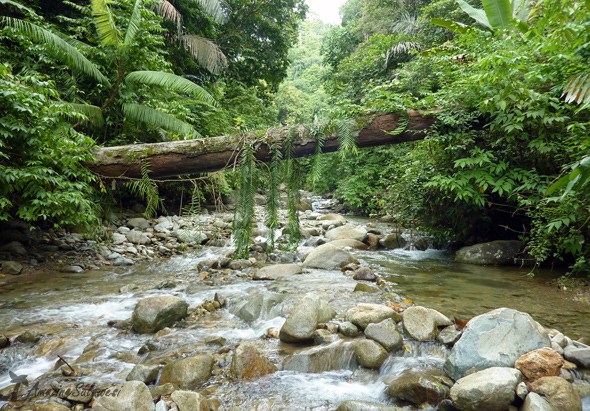 Some examples of wildlife endemic to Sulawesi are the Tarsier, the Crested Macaque and the Babirusa. There are many other endemic species, including several bird and fish species.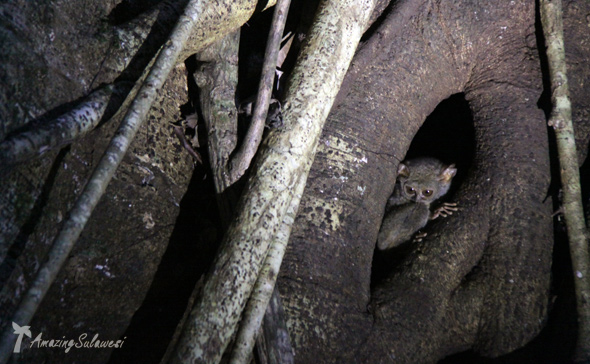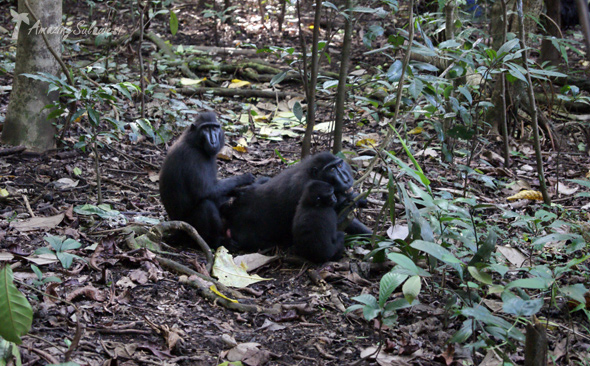 Marine life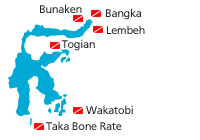 Sulawesi is renowned for its scuba diving and snorkeling possibilities. Sulawesi has four official marine parks; Bunaken, Wakatobi, Taka Bone Rate and Kepulauan Togean. These marine parks are protected areas where fishing is prohibited. Diving conditions in these marine parks are absolutely stunning. Everywhere you look there are beautiful corals, the seas surrounding Sulawesi are teeming with marine life. It is said that the waters around Sulawesi contains a percentage of fish species that is one of the highest in the world.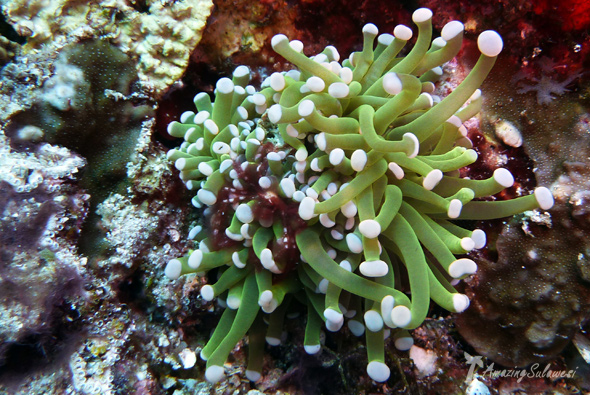 Besides the four marine parks, you can also enjoy perfect diving conditions at Lembeh Strait and Bangka Island. Diving facilities have greatly developed over the years in Sulawesi. Each of the marine parks offer great diving, and there are numerous diving schools that operate at each location. Some of the marine parks are not easy to reach, like Wakatobi and Taka Bone Rate. However, Bunaken, Lembeh, Bangka and Togian are much better accessible and all offer awesome scuba diving and snorkeling conditions.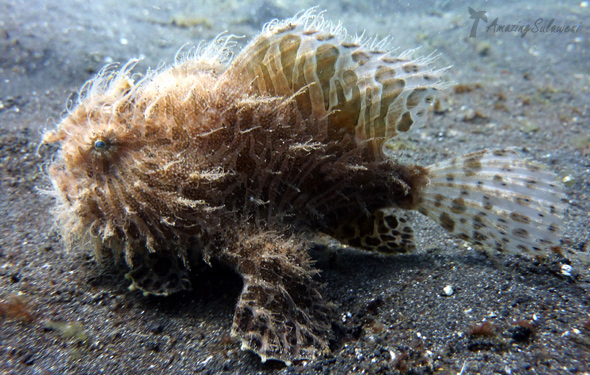 Stunning islands
Sulawesi has numerous beautiful marine parks that attract scuba diving and snorkeling enthusiasts from all over the world. The islands within these marine parks are absolutely stunning. Even non-divers will have a perfect time. Most of the resorts have private beaches, where you can do some great sunbathing.
The Togian Islands and the Wakatobi Islands have the best beaches. They also attract less tourists compared to the other islands, so chances are big that you will have your own secluded beach.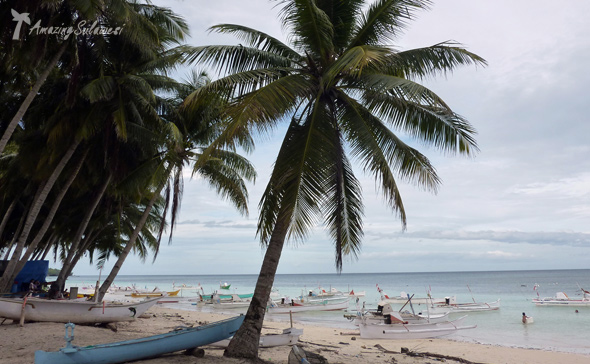 There is even a special lake at Togian with jellyfish that do not sting, which allows you to swim with them.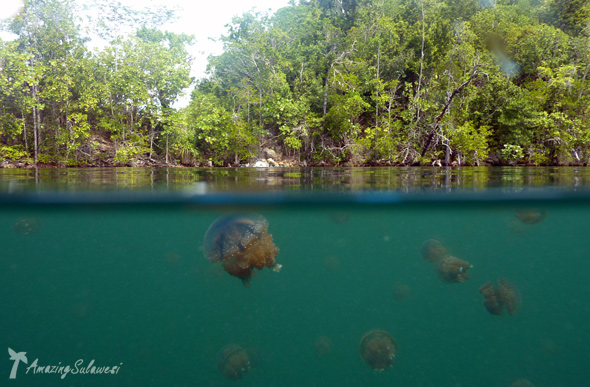 Islands like Bunaken, Bangka and Lembeh are great too, but mostly attract those that come there for scuba diving. Besides the main islands we mentioned just now, there are also many hundreds of islands where you will not find any tourists. Often there is no accommodation on these islands, or there is but nobody has heard of it yet. Real adventurous travelers often venture out to explore the lesser known islands around Sulawesi.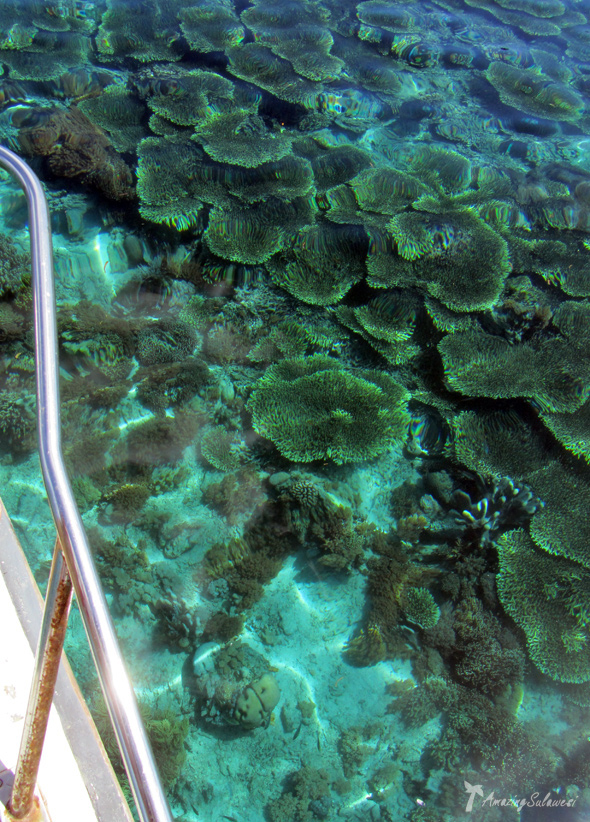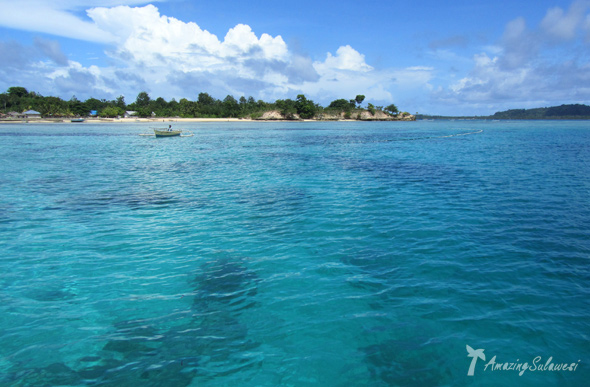 Cultural gems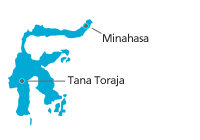 Travelers that visit Sulawesi have two cultural highlands that both are absolutely worth a visit; Tana Toraja and the Minahasa tribes.
There is Torajaland near Rantepao. Hear you can visit traditional villages and witness ancient burial rituals. The small dolls carved out of wood are a very interesting site. There are a few burial grounds in the area that you can visit. Being able to be part of an actual funeral ceremony (party) would be unforgettable. Trips to Torajaland usually start from Makassar.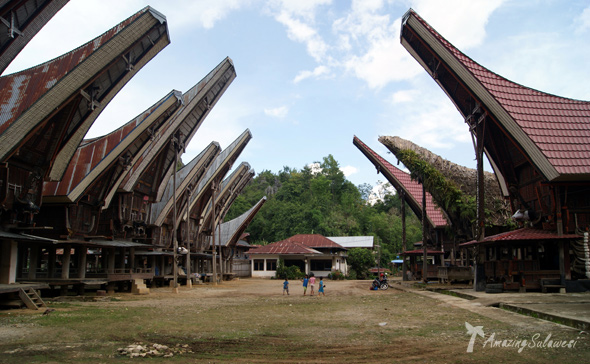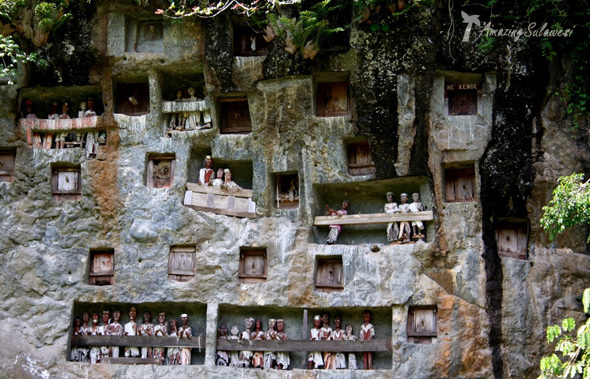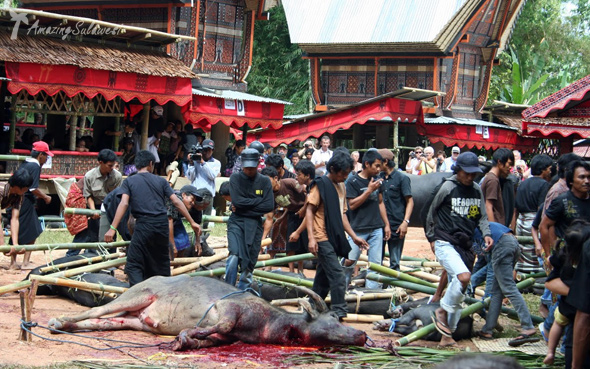 Less intense, but equally interesting are the Minahasa tribes in the Tomohon area in Northern Sulawesi. You can witness typical Minahasan dances, and the fierce hot Minahasan food. The area surrounding Tomohon is also great for nature/hiking enthusiasts. Trips to Tomohon usually start from Manado.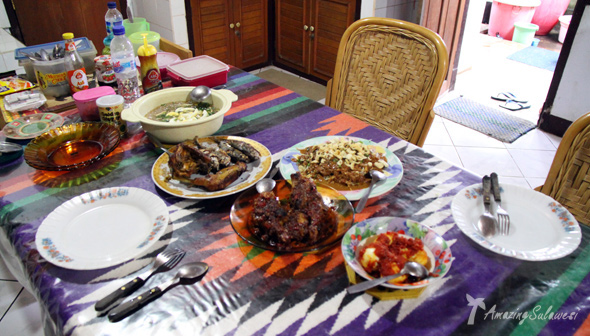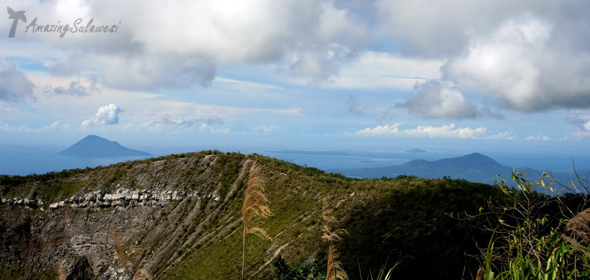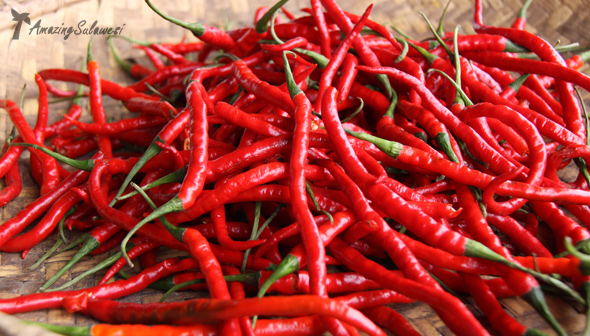 Best time to visit
Sulawesi can be visited all throughout the year. Know that you are visiting an island that lies on top of the equator, so expect hot temperatures and a humid climate. Luckily there are enough highlands with much more pleasant temperatures. Most of the scuba diving paradises around Sulawesi offer great diving conditions all year long. However, rainy season might influence visibility and currents from November to March, but not enough to the extend of avoiding the area durnig these months.
Best hotels & resorts
As Sulawesi isn't a tourism magnet like Bali, Java and Sumatra, there often are limited choices when it comes to luxurious stays at hotels and resorts near the main attractions. Cities like Makassar and Manado only have a few 4 star and 5 star hotels, and only a handful of boutique hotels and pleasant B&B's which you see so much at other Indonesian destinations. At diving hot spots like Bunaken you have a luxurious resorts, but nothing for those that come here to really splurge. Lembeh Island also has a few very nice resorts, most of them offer great diving packages. Do know that the islands surrounding Sulawesi are so stunning, that to many it doesn't really matter if you are sleeping in basic accommodation during your visit.
Below you will see a list with our favorite hotels & resorts in Sulawesi.
Where
From *
Wori
$58
Makassar
$75
Manado
$85
Palu
$86
Bunaken
$89
Wori
$95
Bunaken
$120
Bitung
$129
Lembeh
$279
Siladen
$298
Cities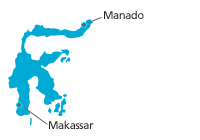 The two biggest cities in Sulawesi are Makassar (+/- 1.4 million people) and Manado (+/- 0.5 million people). They are however small compared to Indonesian cities like Jakarta, Surabaya, Medan and Yogyakarta. Both Manado and Makassar have many restaurants, shopping malls and a few big luxurious hotels.
Makassar is famous for its seafood restaurants. It's the starting point for exploring the southern and central regions of Sulawesi.
Manado is the starting point of numerous attractions in Northern Sulawesi. Hotel prices in Manado sometimes are a bit inflated because of its strategic location near Bunaken Marine Park, a popular (world class) diving destination.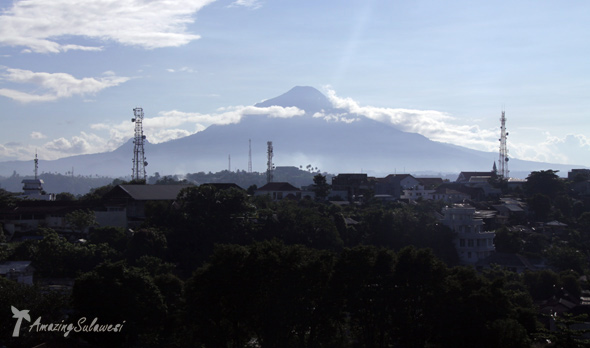 Other cities in Sulawesi are Bitung, Tomohon, Gorontalo and Kendari. Towns worth mentioning are: Rantepao (Tana Toraja), Ampana (Jetty to Togian Islands) and Tentena (Eastern entrance to Lore Lindu National Park).
Travel & transport
Traveling through Sulawesi often is very basic and adventurous. It is also very cheap if you use public buses on longer routes. These buses however are not always safe, and an often heard complaint is that tourists get mugged during a overnight bus drive (so always keep your valuables with you). Domestic flights are an option too, but are not cheap compared to taking a bus. For shorter distances you can use a taxi, do know that most of the drivers do not use the meter. It depends on your bargaining skills what you will end up paying for a taxi ride.
Most resorts offer tours that include transport. They also offer airport pick-ups or pick-ups at other locations. Of course you will pay, but it saves the hassle of having to negotiate on the spot.
Below we list a popular route through Sulawesi:
Makassar -> Rantepao (Tana Toraja) -> Tentena (Lore Lindu National Park) -> Ampana -> Togian Islands -> Gorontalo -> Tomohon -> Manado (or vise versa).
How to get there
There are numerous daily flights to Sulawesi. Main ports of entrance to Sulawesi for travelers are via its capital Makassar, via 2nd biggest city Manado and through a direct flight from Bali to Wakatobi Marine Park. There are not that many international flights to Makassar and Manado. Travelers usually fly to Jakarta and take a flight to Sulawesi from there.
Makassar is served by the following international carriers: Malaysia Airlines, Silk Air and Air Asia. From here there are numerous Indonesian airlines that serve destinations within Sulawesi.
Manado is served by the following international carriers: Silk Air and Wings Air. Also Manado International Airport is connected to many destinations within Sulawesi by local carriers.
Map of Sulawesi