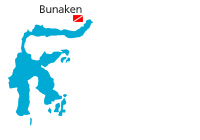 Perhaps the biggest attraction of Sulawesi is Bunaken Marine Park. The marine park consists of 5 islands; Bunaken, Manado Tua, Mantehage, Nain and Siladen. These small islands north of the city of Manado in Northern Sulawesi attract many thousands of diving enthusiasts each year. Bunaken is one of the best diving spots in the world with over 390 species of coral recorded underwater, and numerous species of fish. Almost every avid diver has heard of it at one point in their diving career.
Bunaken National Marine Park was established in 1991 and is a prime example of Indonesia's successful efforts of conserving underwater paradises with high biodiversity. The park covers a total surface area of over 70.000 hectares. Bunaken Island is the wall diving capital of the world.
Yearly over 10.000 foreign tourists visit Bunaken Marine Park. An abundance of resorts and guesthouses can be found at Bunaken Island, there are a few upmarket resorts at Siladen Island. The other islands within the marine park offer no facilities for travelers.
Diving at Bunaken
99 percent of all visitors to Bunaken Island come there for the amazing diving conditions. The corals are very healthy which guarantees high quality dives. Also, the water quality is perfect, with visibility often reaching over 30 meters. Thousands of underwater species are waiting to be spotted during a dive. Bunaken offers numerous great dive spots, it doesn't matter if you are an advanced diver, or a beginner. Due to changing tides, Bunaken is known as a drift dive destination. Luckily for beginners, there are enough dive sites without any currents. Many dives are along never ending steep vertical walls. Often, you are sheltered from currents if you move along these walls.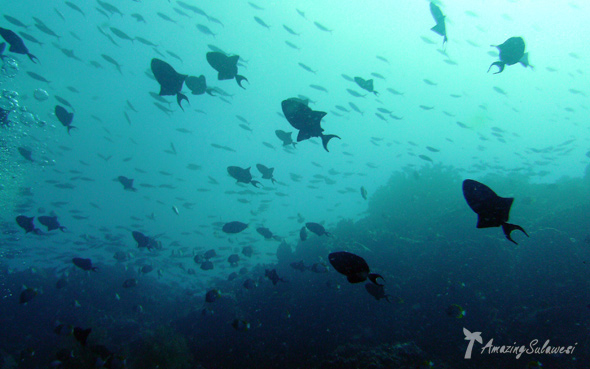 Almost all diving schools have new and well maintained equipment. There is no need to bring along your own stuff, unless you are used to wearing (and hauling) your own equipment. If you bring your own wetsuit; 3mm is thick enough as the water temperature hovers around 27 degrees at 15 to 20 meters depth. Some dive schools even offer the option to rent an underwater camera (for macro photography or underwater video shoots).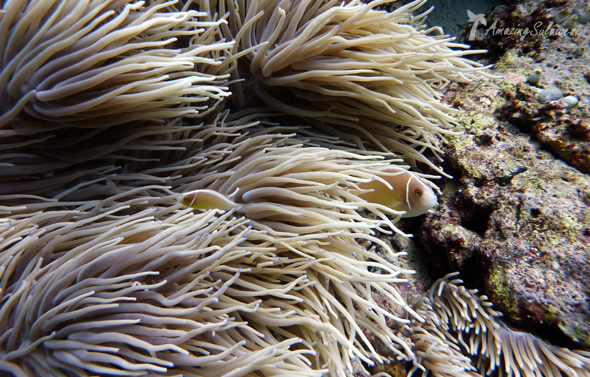 Prices are roughly the same everywhere, ranging from $30 to $40 per dive including equipment rental. If you opt for a package, you will get a discount. More dives in one day, means a cheaper price per dive. All the resorts have a diving school. Dive guides all hail from the region (many are original inhabitants of Bunaken Island) and are very well trained in not only diving, but also in many aspects concerning conserving this beautiful region.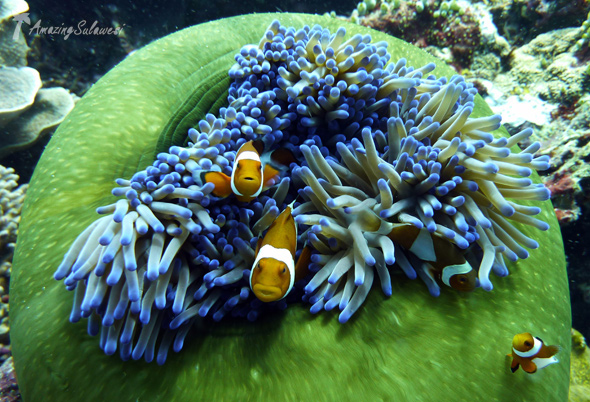 Dive sites at Bunaken Island
There are over 50 dive sites within the marine park. Many of them are for experienced divers, but inexperienced ones will have enough options too. Especially popular are wall dives and drift dives. Bunaken is known for its currents during dives. If you don't like drift dives, do mention this up front to your dive guide or at your dive school so they can select the right dive site for you.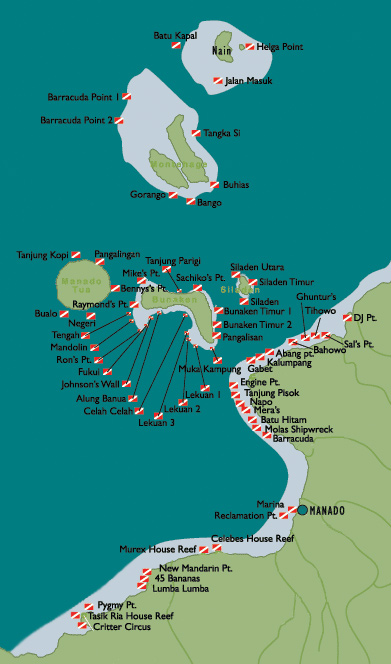 A few amazing dive sites that are suitable for inexperienced divers are Sachikos Point, Lekuan 1, 2 & 3, Muka Kampung, Bunaken Timur 2 and Fukui. If you are staying at Bunaken Island, most of the dive sites are located no more than 20 minutes by boat from your resort. Read a comprehensive description of the Bunaken dive sites here.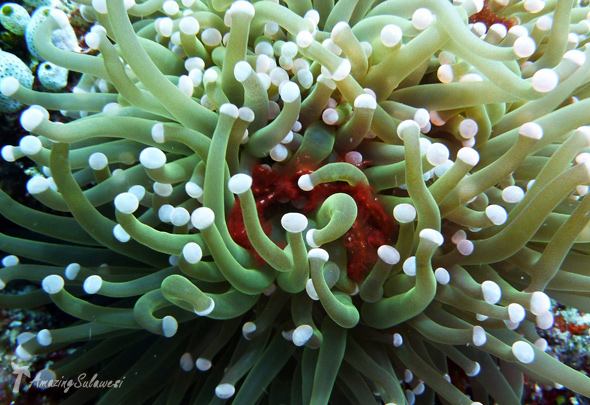 Some of the species we encountered during our dives were – of course – many turtles, lion fish, bat fish, groupers, puffers, snapper, surgeonfish, humphead parrotfish, butterfly fish, wrasses, angelfish, damselfish and many, many more.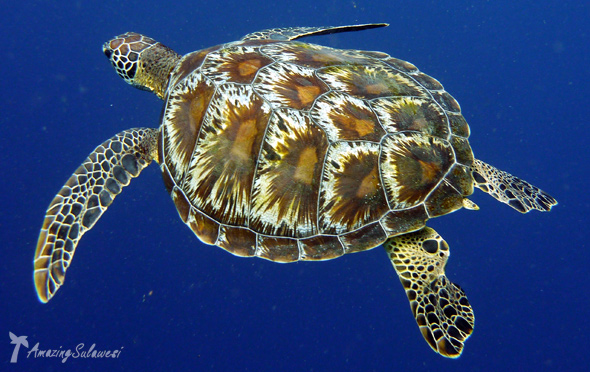 Typical diving day at Bunaken
A typical day at Bunaken Island begins with a nice breakfast around 8 am. After breakfast you will leave for the first dive. Your diving school has already prepared and packed everything. If you did previous dives (the days before) your equipment will be waiting for you at the boat. If it is your first dive, you will have to go a bit earlier and check for the right stuff. Boats usually depart around 9am, but if you have special requirements then you should discuss this the day before.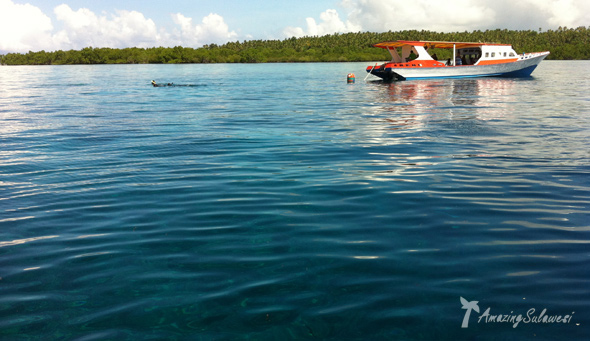 After you first dive there will be a tea break of about one hour. During this tea break the boat men will already move to the next dive site. After your second dive it is time for a nice lunch on board of the boat. If you have three dives planned that day, you will have your third dive after lunch. If you only do two dives, you will be brought back to your resort after lunch.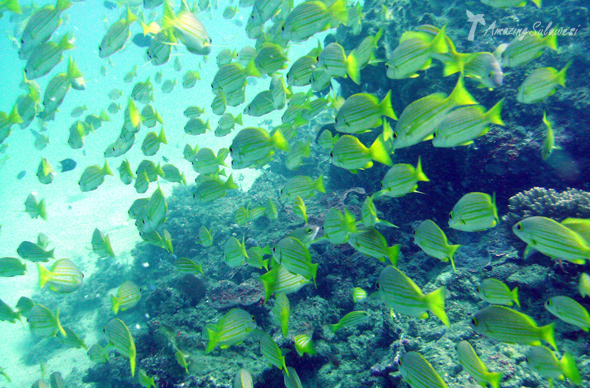 Alternatives to Bunaken Island
Within a few hours by boat you will reach the beautiful Bangka Islands. This is another marine park with beautiful scuba diving conditions. Here you have a nice mix of dive sites and corals are in very good shape too. Another stunning area to dive is at Lembeh Island. This island lies at the most eastern side of Northern Sulawesi and people come here for the great muck diving conditions. To get to Lembeh, you first take a boat back to Manado. From there it is a 1,5 hour drive to Bitung, the port city adjacent to Lembeh Island.
Non-divers at Bunaken
Non-divers can still have an amazing time at Bunaken Island. Most resorts offer snorkeling packages, and there are resorts with their own house reef where you can simply snorkel right in front of the resort.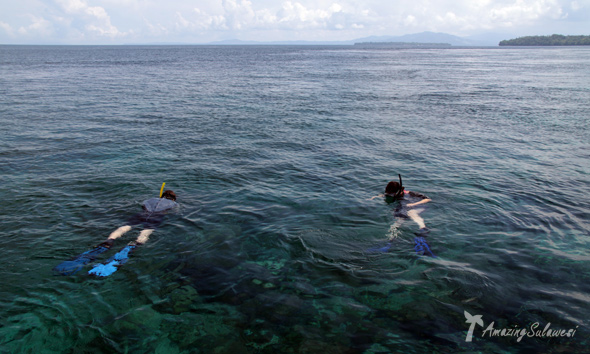 Depending on the location where you are staying you can experience awesome snorkeling condition (best when tide is in). We had especially great snorkeling experiences at the east side of Bunaken Island along Pangalisan beach. Here you can just walk into the water through the mangroves and enjoy the most beautiful corals including endless gardens of soft corals. We saw many species during snorkeling sessions that we also saw during our dives, even a few turtles.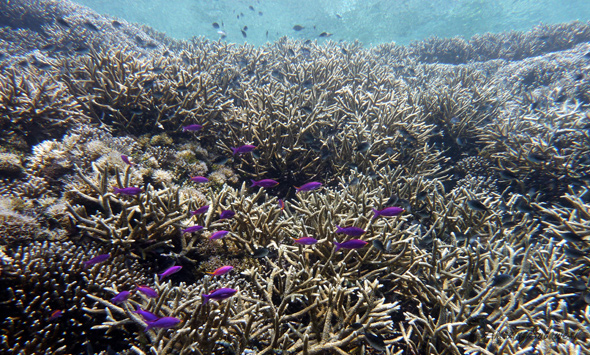 Bunaken is a tiny island. You might like a nice short walk around the island, but the 2nd time you have already seen it all (trails are not always properly marked). Another nice thing to do is dolphin and whale watching (do know that you have to get up really early to spot dolphins). If you are not into diving or snorkeling, you better bring along a few nice books to read. Alternatively, you could consider a diving course as all dive schools offer numerous types of courses.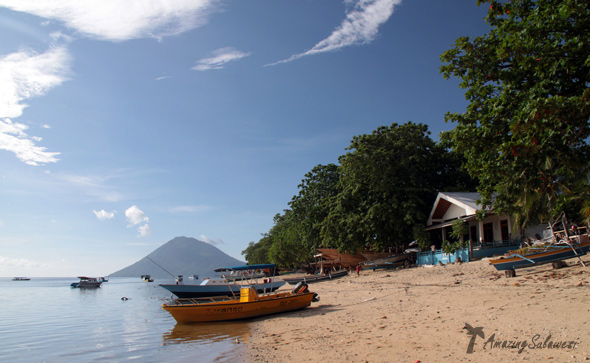 Entrance fee (conservation fee)
Entry to the park costs Rp50,000 per day or Rp150,000 per calendar year. Obviously, if you are staying more than three days, it is better to pay for the yearly conservation fee. Children below 10 years are exempt. The fee is not always automatically levied upon entrance to the park. It is your own responsibility to pay it and most resorts will charge this upon arrival. As proof of payment, you will receive a waterproof plastic tag that must be carried at all times. Spot checks are not uncommon by the patrol boats, though we didn't encounter any checks during our stay.
Peak season & low season
You can visit Bunaken throughout the year. Peak season usually is from July until September, and in the month of January. The best diving conditions are usually between the months of April and October. Visibility under water will be a bit less good from November onwards, but diving conditions are still pretty much great during these months. We visited Bunaken in December, and were warned up front that diving conditions might not be that good. Luckily it turned out the be a wonderful week, with no rain at all and very pleasant diving conditions.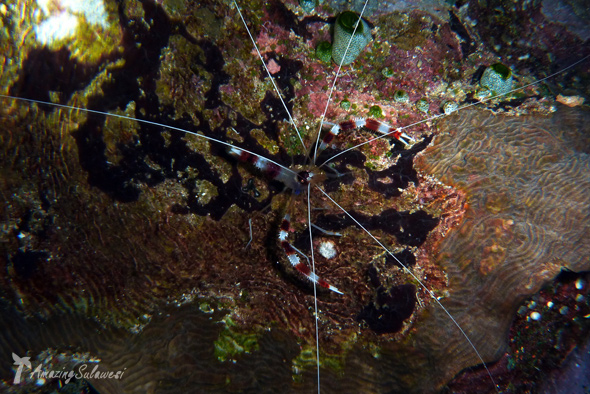 During peak season prices of rooms and dive packages are usually higher. During low season some resort operators might close for renovations or to take a well deserved break themselves. This is usually the case around February and lasts until the beginning of April.
Tips Bunaken Island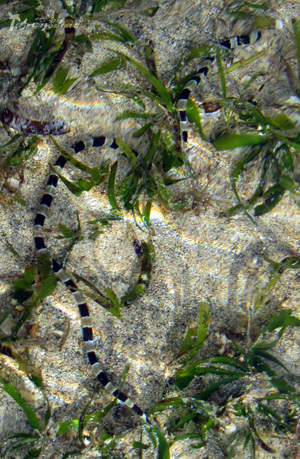 Underwater macro photographers should stay at SeaGarden Resort, or one of the neighboring resorts at the east coast of Bunaken Island. During high tide the snorkeling conditions are extremely good along Pangalisan beach. You will be able to make many beautiful underwater shots without the need of a complete dive. We've encountered many lion fish, turtles, beautiful soft corals with clown fish, huge schools of striped cat fish and many other species. The great thing is that during snorkeling you have ample time for that perfect shot. Kahl owns the dive shop at SeaGarden; he's a very relaxed guy and we had numerous great dives with him during our stay.
At the northern parts of Bunaken Island you can find sea snakes in the shallow water. Here you can also spot the Sulawesi bear cuscus. If you are lucky you will see clear skies at night, with millions of glistening stars. Be on the lookout for fireflies as there are quite a few Berembang trees on the island. Fireflies often are seen near these trees.
There are no shops at Bunaken Island. Resorts all offer 3 meals a day. Should you get hungry in between meals, then you can walk to Bunaken Village to buy a few snacks at the small shops. In Manado, you can also visit a supermarket (like Hypermarket at Town Square Mall) before heading out to Bunaken Island.
Strong wind sometimes moves litter and garbage from Manado to the Bunaken Marine Park. Often divers complain that the marine park is so littered. When the wind blows into the direction of the island, it is much worse compared to winds that blow into the other direction. It is an issue inhabitants of the islands cannot solve that easily.
Often, resorts at Bunaken Island are fully booked during the months of July and August as this is peak season at the marine park. Make sure you make reservations beforehand to avoid disappointment.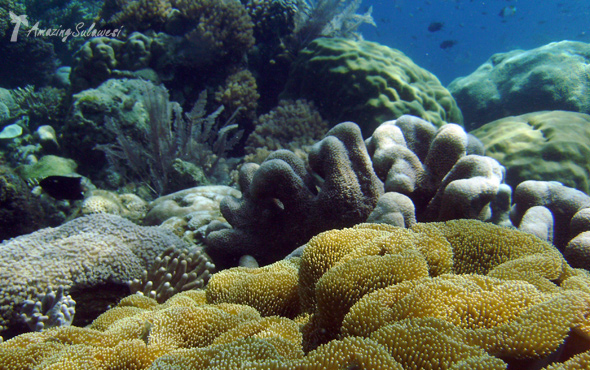 Resorts
There are quite a few very nice resorts located at Bunaken Island. Though there are only a few 5-star resorts, most of them are between 3 and 4 stars. Prices sometimes are a bit inflated, so you might still pay a 5-star price for a 3-star place. Resorts at Bunaken Island are small and usually only consist of a few rooms/cabins. Air conditioning is not standard. Some resorts offer fresh water, some even have heated fresh water. Only a handful of resorts have a swimming pool, absolutely unnecessary in our opinion.
It is wise to make reservations beforehand, as we experienced numerous fully booked resorts in low season while we tried booking two months in advance. Room prices are often per person for a double room. In case of single occupancy you pay an extra fee. Included are all meals, and basic drinks. Most resorts operate their own dive school, and offer dive package deals with extra discount.
A few popular places to stay
Where
From *
Bunaken
$37
Bunaken
$51
Bunaken
$84
Bunaken
$89
Bunaken
$120
Siladen
$298
Backpackers
Bunaken is a popular place. Most of the resorts consist of only a few rooms. Because of this the best reviewed resorts are usually fully booked. You can always just take a gamble and travel to the island without any reservations, but you have to be wary of the fact that you might need to change rooms or even change resorts. That said, there are a few affordable resorts at the island where you can stay for a reasonably low price. Bunaken is quite expensive for local standards, don't expect to stay here for $10 per night. Prices usually start around $30 per night onwards.
Local life at Bunaken Island
Within the marine park live a few thousand local inhabitants, scattered over some 22 small local villages (kampungs). On Bunaken Island there are three villages, of which Bunaken Village is the main village and also the port of entry for the public boat from Manado. After arrival in Bunaken Village you can either walk to the resorts that lie not far from the village. Just follow the only road out of the village and in about 15/20 minutes you will notice the first resorts. If you need to be at one of the resorts that are located further away from Bunaken Village; you can either arrange a boat ride (water taxi) or you can ask one of the locals to bring you there on the back of their motorbike.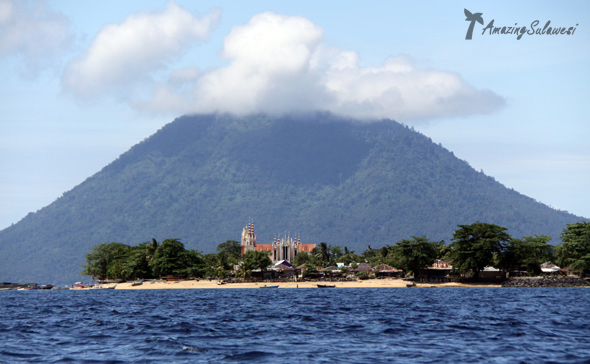 Do not expect too much of the villages. Even Bunaken Village is a really local village. There are no public restaurants, no shops or supermarkets. There is only a huge church, and a few tiny shops selling snacks and refreshments. Everybody with such a shop seems to sell exactly the same products, so if you've seen one, you've seen them all. Beware of past dates on some of the products. You can enjoy the laid back atmosphere within the village by walking around and having a drink at one of the small shops. You can also access the beach and witness local villagers building boats and making fish nets.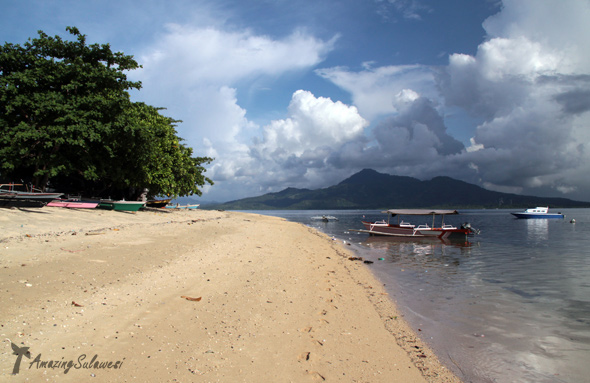 As Northern Sulawesi borders The Philippines to the north by sea, you will notice quite some Spanish influences. Even their Indonesian language sounds a bit Spanish. We thought the locals at Bunaken Island were very friendly and absolutely not spoiled by tourism. It was however good to see that many are in business with foreigners. For example; most of the resorts on the island are co-owned by Bunaken locals, they have local staff and local dive guides.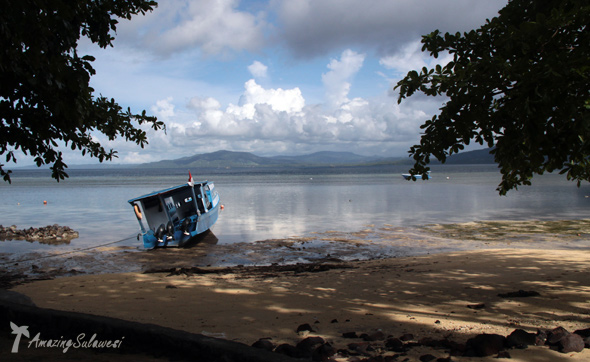 Boat from Manado to Bunaken Island
All dive resorts offer a pick-up at Manado Jetty (behind Celebes Hotel). Usually you pay around Rp.200,000 per person for this 45 minute boat ride, but it often depends on the resort. The benefit is that you will be dropped off directly at your resort. Another benefit is that you are more flexible in when to travel to Bunaken from Manado, as you can contact the resort up front to tell them when you need to be picked up.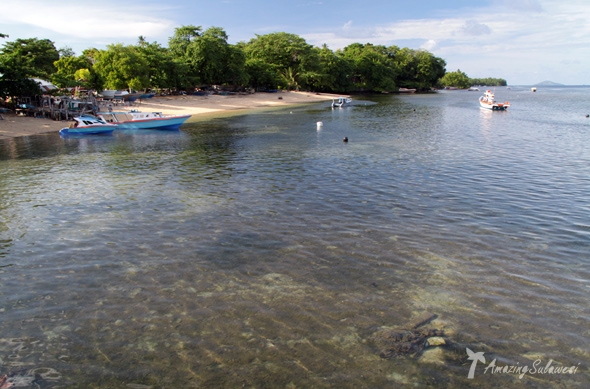 A more affordable alternative is the public boat that leaves daily around 2pm. It departs north of Manado market (Pasar Jengki) and costs Rp.25.000 per person (locals pay Rp.10.000, so don't be disappointed too much when you have to pay more). You will arrive at Bunaken Village and have to walk to your resort from there or you can take a water taxi or hop on the back of a motorbike. The return boat leaves Bunaken Village around 8 am in the early morning. Make sure you let your resort know that you will check out early, so they can prepare breakfast in time. On Sundays, the public boat is not in business.
How to get there
There are daily flights to Manado, mostly from other cities within Indonesia (like Jakarta). Singapore Airlines has a daily direct flight with their subsidiary Silk Air. The airport lies about 30 minutes by car from Manado. You can take a taxi at the airport straight to Bunaken Harbor for about Rp.85.000. If you need a local sim card with 3G, you can buy one at the airport at the little Telkomsel/Simpati shop. However, 3G coverage is lousy at the islands. Bunaken can be easily reached by boat from the city of Manado. From the main jetty it is a 45 minute boat ride to the island. At the jetty you tell the boat men where you want to be dropped off, as you are usually taken straight to the resort where you made reservations beforehand.
Map of Bunaken National Park
Got any nice tips? Do let us know by leaving a reply below. If you appreciate this article, please do like it below or share it via Facebook or Twitter.