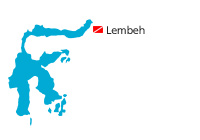 Lembeh Island lies directly opposite the port city of Bitung, which is the 2nd largest city in Northern Sulawesi after Manado. Between Bitung and Lembeh Island you find the Lembeh Strait, internationally famous for its amazing muck diving conditions.
Wikipedia: Muck diving gets its name from the sediment that lies beneath most dives: A normally muddy or "mucky" environment. Other than the muddy sediment, the standard muck dive may consist of dead coral skeletons, discarded fishing equipment, tires and other man-made garbage. In addition, the visibility is usually sub par to the reef or wreck sites of the area.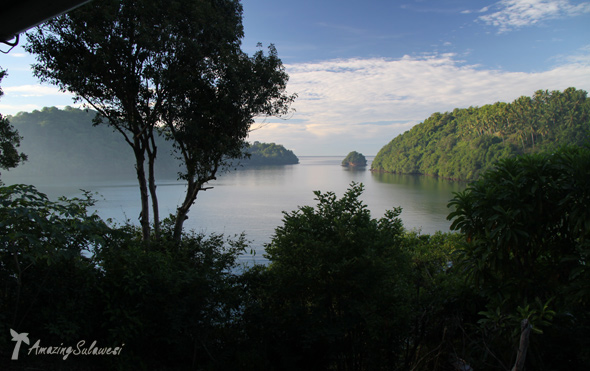 Muck diving is all about spotting tiny underwater critters, species that you would normally not look for or find easily during a regular dive. Diving at Lembeh Strait means you are on the lookout for numerous weird but amazing looking species such as the Lion Fish, Giant Frog Fish, Hairy Frog Fish, Mimic Octopus, Blue Ringged Octopus, Banded Sea Snake, Banded Eel, Mandarin Fish, Orangutan Crabs, Manta Shrimps and many, many other species. For obvious reasons is Lembeh a real paradise for those that are into underwater macro photography.
Larger pelagics are usually found elsewhere. Don't be surprised however, if you run into a whale shark or a dugong (though chances are slim). Overall, you visit Lembeh for the weird and strange sea creatures.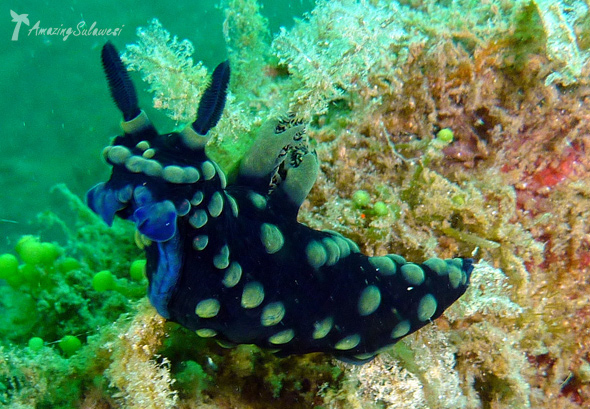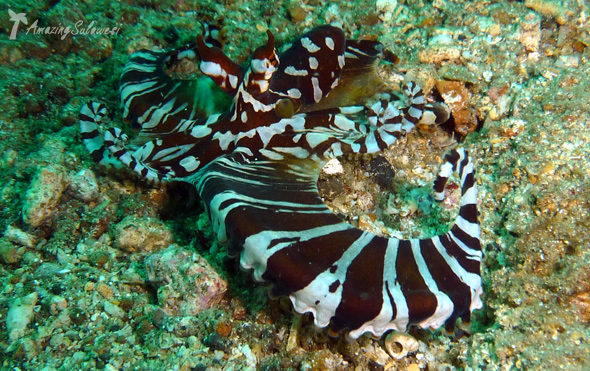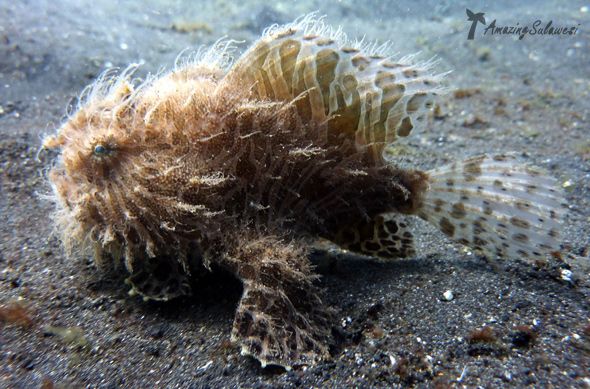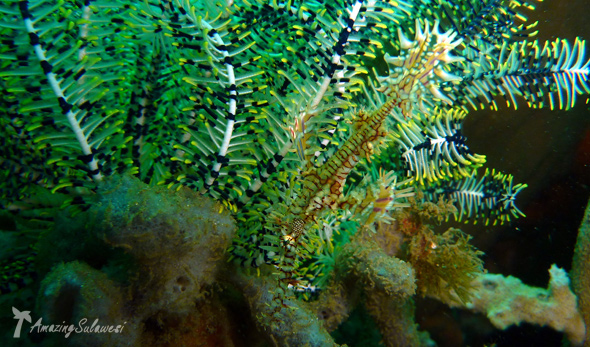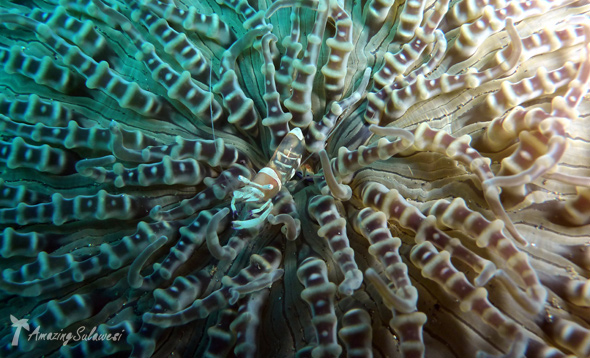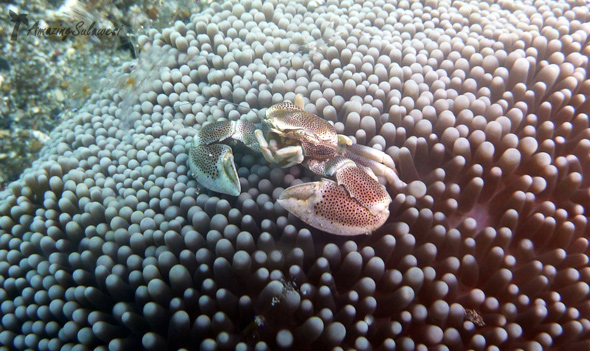 Dive sites at Lembeh Strait
There are about 60 dive sites around Lembeh Island. Most of the muck diving sites are within Lembeh Strait. On the eastern side of Lembeh Island there are a few dive sites with more colorful corals and steeper walls. Most of the dive sites within the Strait are great for muck diving, two sites however offer beautiful coral gardens. Angels Window and California Dreaming should not be missed if you want a nice colorful dive for a change.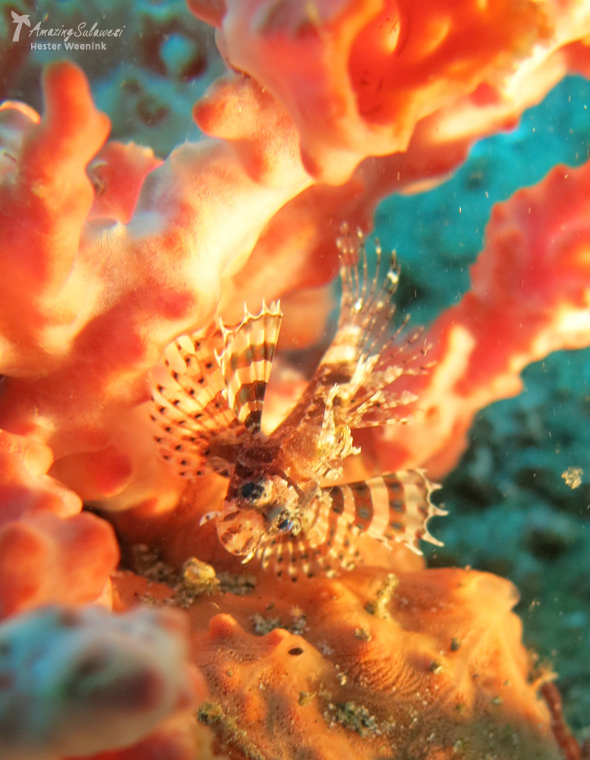 Check out this updated map with all the dive sites around Lembeh Strait (courtesy of Teresa Zubi).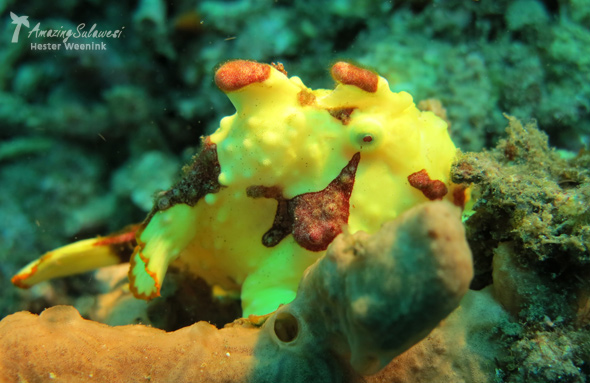 Diving conditions at Lembeh
You can enjoy great diving conditions throughout the year at Lembeh. Lembeh Strait is protected by Lembeh Island, which means there is almost no current. As always with muck diving visibility can be quite bad (4m-20m), but this generally allows for great muck diving. There are a few dive sites where you can encounter some currents. Many dives are in shallow water; where there is no need to go deeper than about 8 meters. The good thing is that you last much longer on a single tank of air.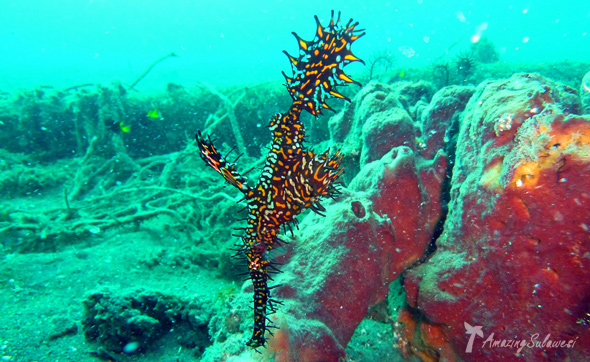 Proper buoyancy is of utmost importance around Lembeh. Sometimes you find more species in a single square meter than in the other 20m2 you have explored. Often, rare species are almost invisible and you really have to focus and check every single detail to find them. Great buoyancy allows you to hover at a short distance above the sea bed; without disturbing underwater life around you.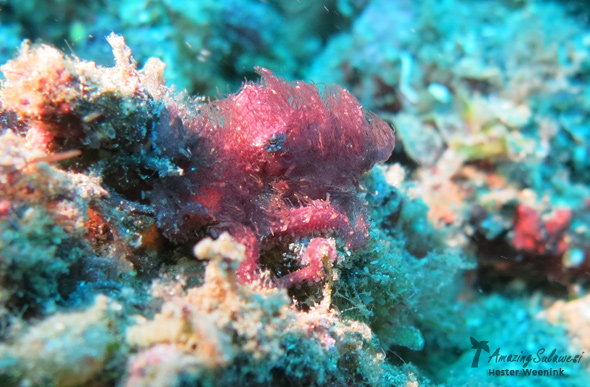 Typical dive at Lembeh
A typical diving day at Lembeh goes as follows: You will wake up around 7/8 in the morning. After breakfast you get to the boat that is already loaded, prepared and ready to depart. Usually boats leave between 8 and 9 in the morning, unless you made different arrangements. Depending on the first dive location it is a 5 to 45 minute boat ride. After the first dive you will have a light snack and some coffee, tea or water. Usually the boat men will already relocate to the next dive spot. After the necessary time has passed it is time to suit up for the 2nd dive of the day. After this dive lunch will be served on the boat. After lunch you will go back to the resort. If you have three consecutive dives planned, you will have your third dive after lunch. In most cases it is also possible to do 2 morning dives (just like I described here) and do a mandarin or night dive later that day.
Tip: Bring along a diving snorkels (tube) when you are diving at Lembeh Island. Often the exit point is very shallow, sometimes only 1 or 2 meters deep. If you are diving with people that last much longer on a tank of air; you can at least still enjoy the beautiful underwater world by simply doing a bit of snorkeling with your snorkels.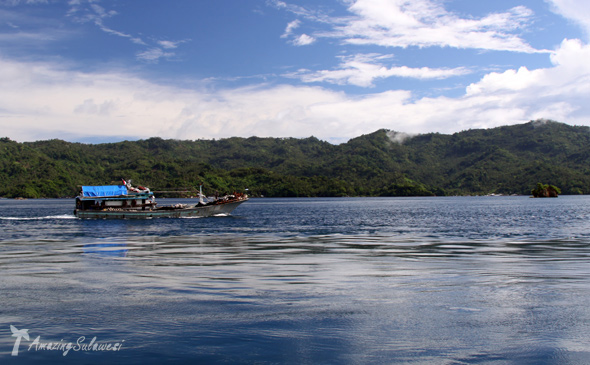 Best time to visit Lembeh
There is a dry season between March-October, and a wet season between November-February. A typical day during the wet season is overall very sunny, but usually has about two hours of heavy rain in the afternoon. Peak season runs from July to October, low season between January and June. During peak season some resorts may not have any room available, consider making reservations beforehand.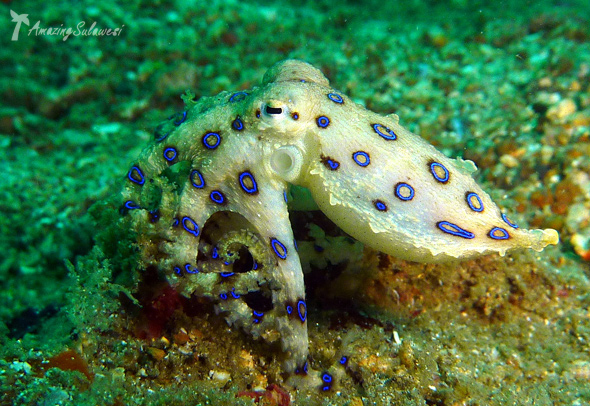 Equipment
Many divers bring along their own diving equipment. Singapore Airlines allows passengers to bring their diving gear as extra luggage on board without extra charges (please do check before making reservations to make sure this offer is still valid). Bringing your own equipment is nice because you know what to expect.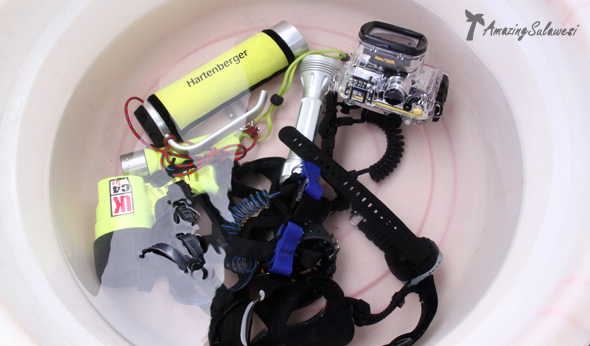 Usually, equipment rental is not included within the dive price or dive package. Most resorts list rental prices on their website, so you can have an idea on the extra costs of renting stuff. When you rent equipment at the resorts, you always have to wait and see whether it will fit right. If you have an off size, make sure to check with the resort (preferably before arriving) if they have your size available. Often, they are able to lend equipment from neighboring dive schools/resorts.
Around Lembeh everybody is scuba diving with a long wetsuit. This is to protect arms and legs from stinging critters, from tiny poisonous jellyfish and from the razor sharp, but barely visible, corals.
Many resorts and dive schools offer nitrox diving for an extra fee. Always check if they are nitrox certified beforehand.
Underwater camera rental
The main reason thousands of travelers visit Lembeh yearly is because of it's great underwater secrets. It is the perfect place for those that love macro underwater photography. To my surprise not many resorts offer the option of renting an underwater camera. I contacted numerous resorts, but did not find one that was able to provide one. This means that if you want some nice memories of your muck diving trips at Lembeh, you should bring along your own camera. There is no need to invest in a really expensive one, as we encountered quite a few divers with a standard point & shoot within a generic underwater housing. Their buddies joined with a flash light to supply proper lighting under water.
If you already own a good compact camera, then I would suggest checking for a suitable underwater housing. Often, with some older models, underwater housing can be quite affordable.
Entrance fee
The entrance fee for entering Lembeh Straits Marine Park is Rp.50.000. This fee is paid upon checking in at your resort, or included in your bill upon check-out.
Rules at Lembeh:
No touching or disturbing animals
No anchoring
Dive Ratio of no more then 4 guests per 1 Dive Guide
Maximum of 15 divers per site including dive guide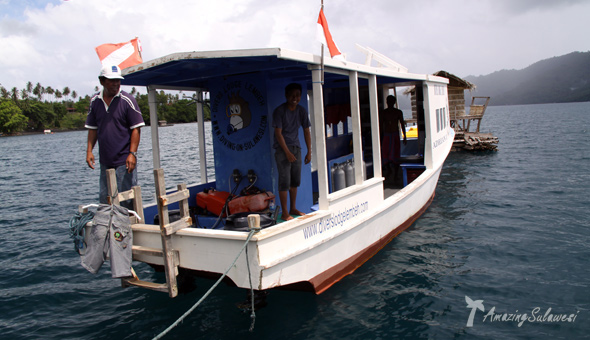 Resorts around Lembeh Island
There are quite a few resorts around Lembeh Island. Some of them are located near Bitung, most on the adjacent island itself at secluded spots. Resorts around Lembeh often are quite luxurious and therefore not cheap. Backpackers that are on a budget are probably better off at Bunaken Island.
Resorts offer packages that often includes all meals (full-board) and a certain amount of dives per day. Usually you can also choose a non-diving package, and pay for your dives along the way. Usually, you will have the best deal if you buy a package that already includes 2 or 3 daily dives. All resorts have their own dive school and diving is the main reason for visiting Lembeh. Often resorts offer snorkeling trips, but if you are a real fan of snorkeling we would recommend traveling to the Togean Islands instead.
Most of the resorts offer a pick-up service at numerous locations within Northern Sulawesi. Usually a pick-up from Manado or Manado International Airport costs about $45 for two persons including the short boat ride to the island.
Rating
From p/p *
****
€47
****
€80
***
dive package **
***
€35
***
€90
***
€115
***
€160
***
€94
***
€265
**
€19
**
€40
**
€12
* Overnight stay per person only, based on double occupancy and full-board (all meals and certain types of drinks). Does not include dives.
** Dive package means that the resort only offers a stay of at least x nights including dives.
Tips & things to keep in mind
Always remind the guides to ensure the critters are well looked after. If you witness misbehavior, do let them know afterwards. The same goes for other – perhaps less experienced – divers.
Proper buoyancy is very important when diving at Lembeh. You can follow a peak buoyancy course at most of the dive schools.
Some resort packages seem very expensive. However, often they include dives and meals.
Resort ratings are not the only criteria to judge a resort by at Lembeh Island. This explains why a 3 star resort can be very expensive (at first glance) and a 5 star resort very affordable.
There is a thing called photography etiquette. It means that you should not stress out species by making too many photographs. Also, make sure your fellow divers also have ample time to take a shot.
There is totally nothing wrong with returning to the same dive site. Every dive at Lembeh is totally different.
Though you can make better pictures with a proper underwater camera setup, you can also bring along a typical 'tough' camera which allows you to take pictures up to a few meters. Some dives at Lembeh are in quite shallow waters, you could use your camera there. Most of these cameras work fine up to 10 meters. The immensely popular Panasonic FT5 for example can be used up to 13 meters of depth, the also very popular Olympus TG-2 can even reach over 15 meters.
Lembeh is located in a remote area of northern Sulawesi. Nearest shops are in Bitung at the mainland. Many resorts are able to have their staff bring items from the supermarkets. In case you want to do some shopping yourself, better make sure you visit Manado as this is the only place with big malls and huge supermarkets.
Mosquitoes can be a nuisance around Lembeh Island. Though chances are slim you get sick after a bite, it can still be quite annoying. You can buy anti-mosquito gel and spray at the bigger supermarkets in Manado. Here you can also buy the mosquito coils (brand: Baygon Max, Anti Nyamuk Bakar).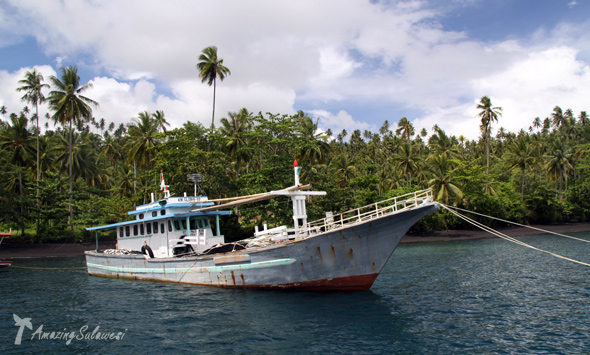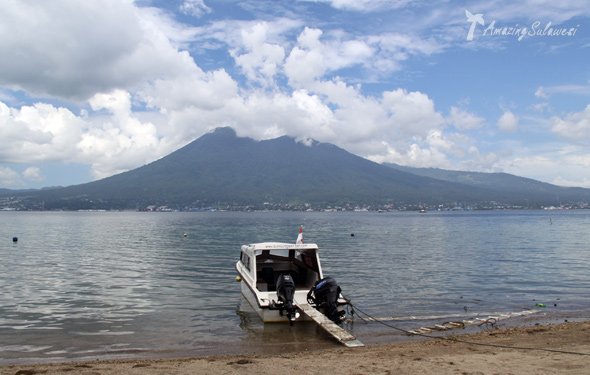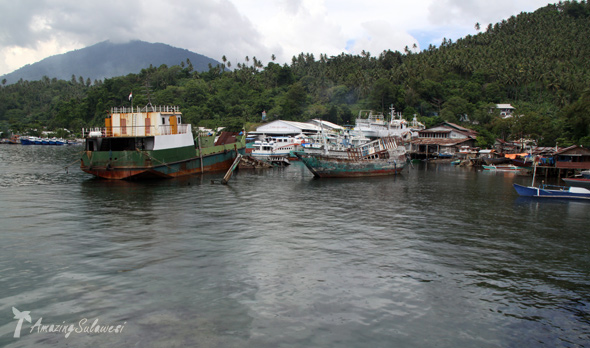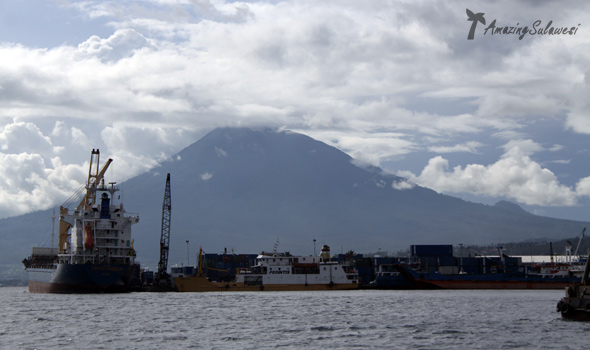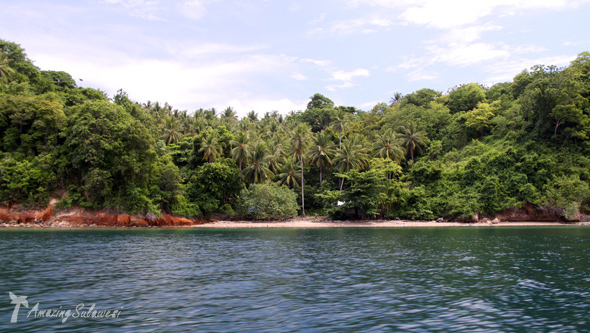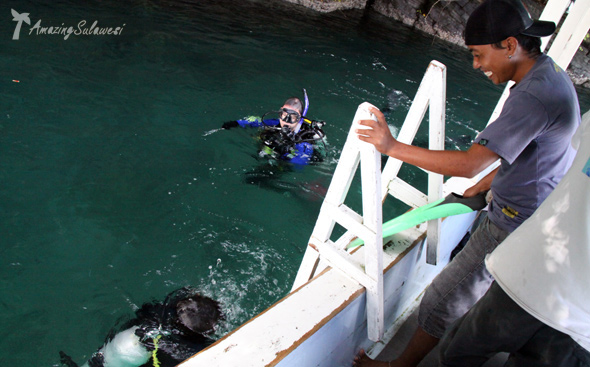 Nearby attractions
Often the resorts around Lembeh offer daytrips to the nearby attractions. Nearest to Bitung (and Lembeh) are Tangkoko National Park, Tomohon and Lake Tondano. It is also possible to do dives or enjoy snorkeling at Bangka Marine Park, in the northernmost tip of Sulawesi. Some resorts have a kayak that you can use to explore the area. There are a few nice secluded beaches where you can be dropped off by the resort crew. Also, many resorts offer house reef diving; great if you just want to go out and explore the underwater area by yourself.
How to get there
Getting from Manado to Bitung is easy, just grab a taxi (preferably BlueBird) and you will arrive in Bitung in about 1,5 hours. A taxi should not cost more than Rp.400.000, but it often depends on your bargaining skills. There are also frequent buses between Manado and Bitung, they depart at Paal Dua terminal and cost about Rp.10.000. Besides buses and taxis you could also consider renting a car. Though you can rent a car without a driver, we would strongly advice to rent one including a driver unless you know your way around Northern Sulawesi.
Manado International Airport is the nearest airport. Here numerous flights arrive on a daily basis, including a few international flights. For example, Singapore Airlines operates a daily direct Silk Air flight to Manado. There are quite a few long haul carriers that offer great prices to Singapore. Once you have arrived at Manado airport; it is easy to find a taxi that is willing to take you to Bitung.
Do know that most of the resorts around Lembeh offer a pick-up service. The price is added or included in your total bill. This is probably the best and easiest way to get to your resort.
Map of Lembeh Strait
Got any nice tips? Do let us know by leaving a reply below. If you appreciate this article, please do like it below or share it via Facebook or Twitter.