It is not easy to compose a list with the 10 most popular and most important attractions of Sulawesi. The island is huge, and there are countless of great highlights that deserve a spot in the list. Below is our top10, based on our own travels and personal preferences. If you think we left out other great attractions, do mention this below by leaving a reply. Also, if you appreciate this article, please do like it below or share it via Facebook or Twitter.
1. Bunaken Marine Park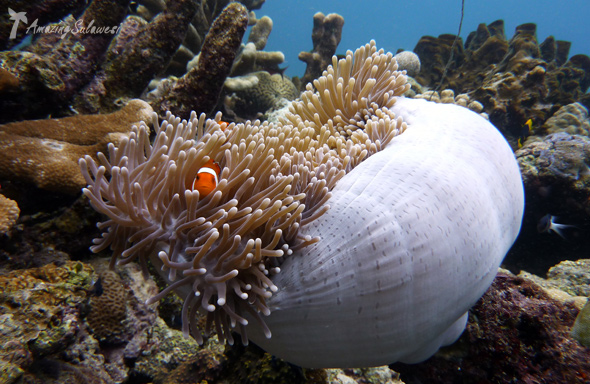 Bunaken Marine Park consists of 5 tiny islands. Around these islands you will find the most beautiful corals in the world. Bunaken is seen among divers as one of the best diving spots in the world. As a diver; a visit to Sulawesi is incomplete without spending a few days at Bunaken to explore the fascinating underwater sea life. Non-divers will also have a great time, as the snorkeling conditions around the islands are great too. More about Bunaken.
2. Tana Toraja, Rantepao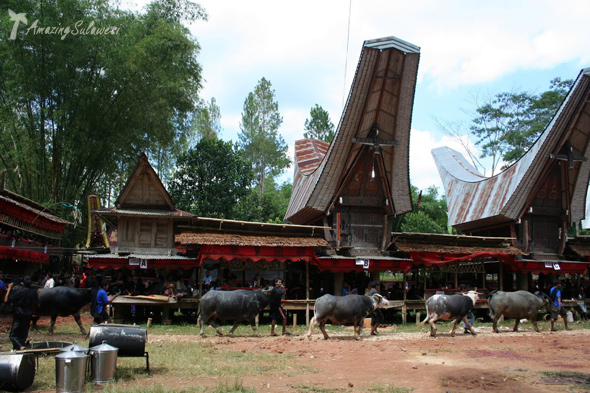 The land of the Toraja people lies in Southern Sulawesi near the city of Rantepao. From the capital city of Makassar it is a 9 hour bus drive to Tana Toraja, a long trip but totally worth it. The Toraja are mostly Christians, but practice animist rituals. The most interesting are the burial rites where bodies of the deceased are kept for long periods of time (sometimes many years) in order for the family to save up for the final funeral. Animal lovers may want to skip witnessing the funeral festivities, as animals are slaughtered in various horrifying ways. Highlights are the amazing scenery and the numerous burial sites. The temperature is also very pleasant as compared to lowland areas where it is usually very hot.
3. Lembeh Strait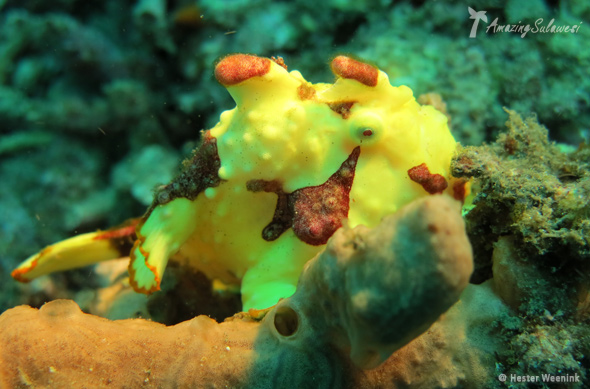 Bunaken is probably the most well known diving spot of Indonesia. Lembeh Strait however is regarded as one of the best diving spots in the world when it comes to muck diving. Divers that love tiny critters are best off around Lembeh Island. Here you can go on dives trying to spot seahorses, nudibranches and other small underwater species. Most of the resorts on the island are quite luxurious, which often makes a visit a memorable one.
4. Tangkoko National Park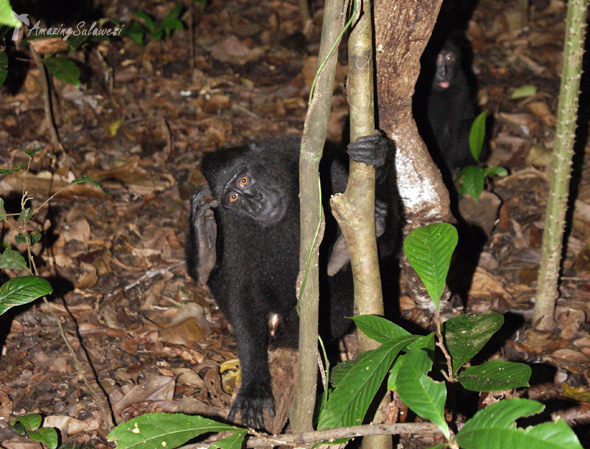 Tangkoko National Park lies roughly between Bunaken and Lembeh, north of the city of Bitung. The national park is very popular because of two main species to spot; the tarsier and the crested macaque. Both are awesome to spot in the wild. There are a few basic guesthouses and homestays near Park HQ, where you can stay overnight. Many tourists however visit the jungles of Tangkoko during a single day trip, which is perhaps the least fun way to experience the park's wildlife. Chances of spotting the famous two animals are very slim during daytime.
5. Togian Islands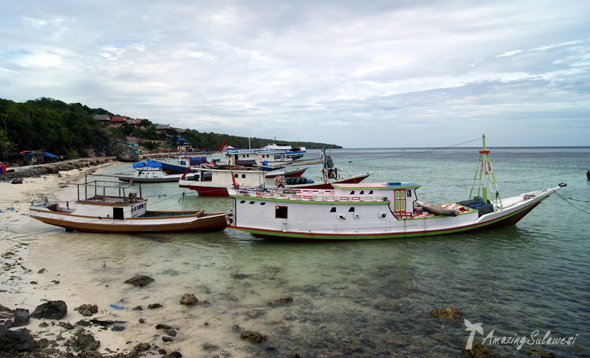 Togian is a great place for those that want to spend a few days in an ultimate tropical setting. The Togian Islands are absolutely stunning. The diving and snorkeling conditions are great. The islands are not that easy to reach, which usually means you have miles of beaches to yourself wherever you are. If you are traveling from North to South Sulawsi, you cannot pass up on a visit to the Togian Islands.
6. Lore Lindu National Park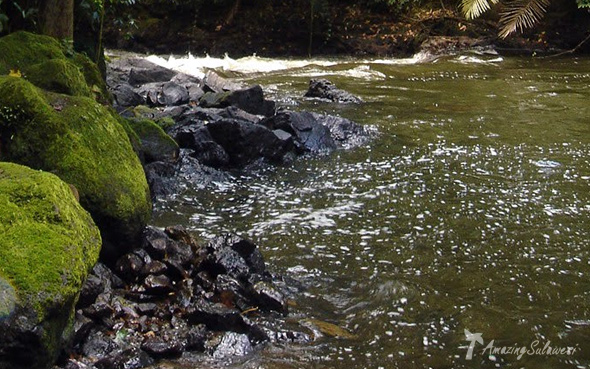 Lore Lindu National Park is probably the most interesting national park of Sulawesi. Wildlife and nature enthusiasts should definitely visit this beautiful park. Lore Lindu lies within the highlands in Central Sulawesi. Highlights are the stunning views and scenery, the many endemic species and the beautiful Bada, Besoa and Napu Valleys. Most of the longer trails require a guide, and don't pass up on a chance to stay overnight; it will be the highlight of your trip through Sulawesi.
7. Wakatobi Marine Park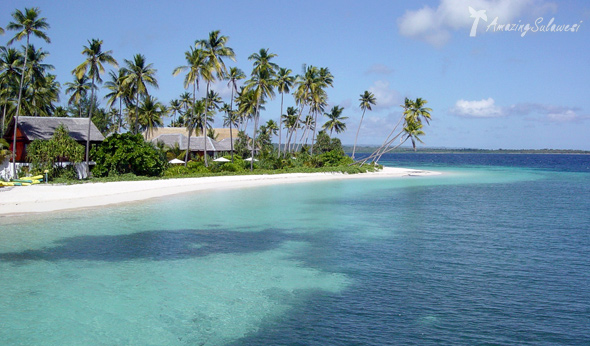 Wakatobi Marine Park is located in Southeast Sulawesi and consists of a stunning group of islands. The islands are not easy to reach when you are traveling overland. It is best to take a short flight from Bali. Diving conditions are sublime, and there are almost no other tourists here. Resorts on the islands are all quite luxurious. It is truly a tropical heaven on earth.
8. Tomohon & Minahasa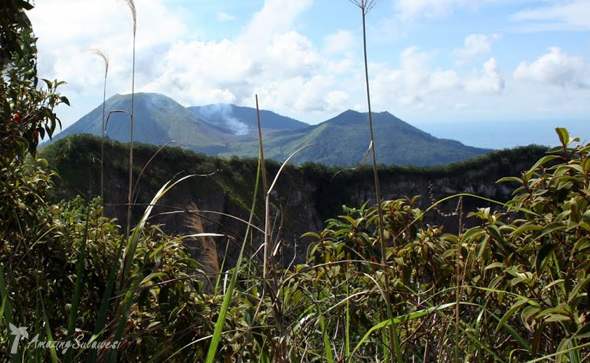 Tomohon is a small city in Northern Sulawesi. Because of the elevation it is much cooler here compared to the high temperatures in the city of Manado that lies nearby. Tomohon is surrounded by (active) volcanos. You can climb to the rim or do some pleasant hikes in the area. People from Tomohon are Minahasans, a tribe that still maintain their authentic customs up until today. Tomohon is great for a short, few days visit.
9. Bogani Nani Wartabone National Park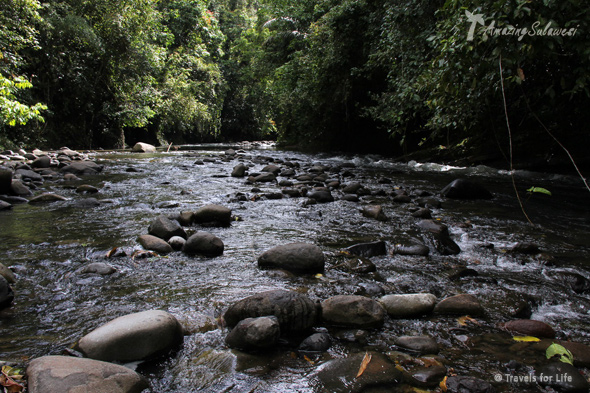 In Northern Sulawesi, between the two cities Gorontalo and Kotamobagu lies the beautiful Bogani Nani Wartabone National Park. Here you can experience the real jungles of Sulawesi and venture into places not many other tourists have done before you. Be prepared for a real basic but exiting adventure deep in the jungles of Sulawesi. Buses depart daily from Manado and take about 6 hours to reach Park HQ.
10. Lake Tondano motorbike trip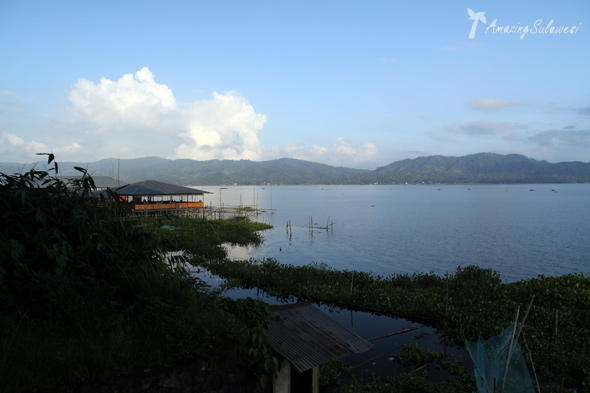 The beautiful Lake Tondano lies 15 kilometer south of Tomohon. You can rent a motorbike in Tomohon, and drive the lake by yourself. The scenery around the lake is stunning, and visiting the lake will be a very fun and relaxed day.